Rezoning Application – 560 Raymur Ave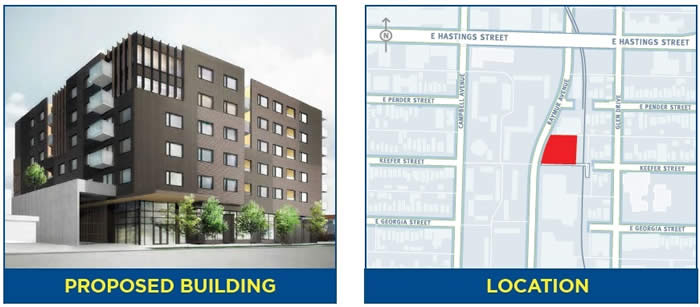 The City of Vancouver has received an application to rezone 560 Raymur Ave from Light Industrial (I-2) District to Comprehensive Development (CD-1) to permit the development of one mixed-use building. The proposal includes:
a total gross floor area of 7,226 sq. m (77,780 sq. ft.)
a floor space ratio (FSR) of 2.94
a building height of 69.55 ft.
ground level manufacturing space
5 storeys of 59 strata-titled housing units
2 levels of underground parking with 97 vehicle parking spaces and 154 bicycle parking spaces
This application is being considered under the Downtown Eastside Area Plan and the Rezoning Policy for the Downtown Eastside.
You can provide comments by filling out our online feedback form.
This application is accompanied by a concurrent rezoning application for 1220-1298 East Hastings Street. While these are separate rezoning applications, the DTES Plan requires that rezonings for these sites deliver a minimum of 20% of all housing units to be social housing. As such, the applicant is proposing to consolidate their 20% social housing requirement to be delivered within one building at 1200-1298 East Hastings Street. As such, these two applications are tied and will be processed together with the same open house and UDP date.
A community open house was held on June 24, 2019 from 4:30 - 7:00 pm at the Strathcona Public Library (730 East Hastings St.) in the Wo Soon Mary Lee Chan Room. City staff and the applicant team were available to answer questions.
Application
Notifications
Advisory Groups and Community Meetings
Community Open House - June 24, 2019

Urban Design Panel - August 7, 2019
Links
To view additional plans please make an appointment with the rezoning planner.
City Contact: Michelle Yip, Rezoning Planner, Michelle.Yip@vancouver.ca, 604-873-7727
Applicant Contact: Rodney Rao, Onni Group, rrao@onni.com, 604-629-7513
View the location using VanMap ( What is VanMap? )
View the notification area and legal information
--------------------------
To receive updates about the Downtown Eastside Plan, including information about rezoning applications, please visit vancouver.ca/dtes and provide your contact information in the box titled, "Get updates".
[top]