Rezoning Application - 1040-1080 Barclay Street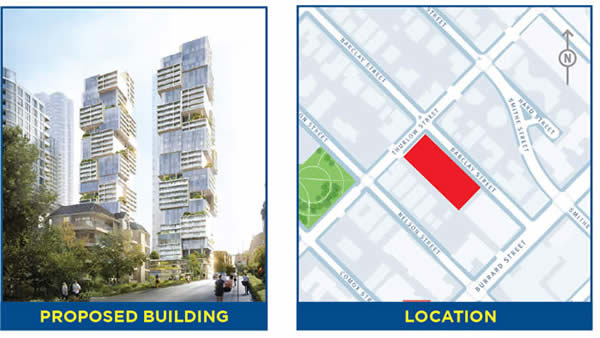 The City of Vancouver has received an application to rezone 1040-1080 Barclay Street. The proposal is for two residential towers connected by a podium bridge with:


481 market strata units;
162 social housing units;
a total floor space ratio (FSR) of 15.42 and a floor area of 62,004 sq. m. (667,404 sq. ft.);
eight levels of underground parking with 626 vehicle parking stalls and 810 Class A bicycle parking spaces;
building heights of 139.60 m (458 ft.) (East Tower) and 136.72 m (449 ft.) (West Tower);
Commercial Retail Unit space located along Thurlow Street; and
a 548 sq. m. (5,894 sq. ft) City owned childcare facility.
This application is being considered under the West End Community Plan.
A community open house was held on May 8, 2018 from 4:30-7:30 pm at the Sutton Place Hotel, located at 845 Burrard Street in the Le Versailles Salon A, 2nd Floor. The applicant team and City staff was available to answer questions.
You can provide comments on this rezoning application by filling out our online feedback form.
Application (February 16, 2018)
Advisory Group and Community Open House Meetings
Community Open House - May 8, 2018
Urban Design Panel - May 16, 2018 - Support with Recommendations
Links
To view additional plans please make an appointment with the rezoning planner.
City contact: Thien Phan , Rezoning Planner, thien.phan@vancouver.ca, 604-829-9225
Applicant contact: Adrian Lai, Bosa Properties, 604-299-1363
View the notification area and legal information
View the location using VanMap ( What is VanMap? )
----------------
To receive updates about the West End Plan, including information about rezoning applications, please visit vancouver.ca/westend and provide your contact information at the bottom of the page.
[top]