Rezoning Application - 282 West 49th Avenue (Langara Family YMCA)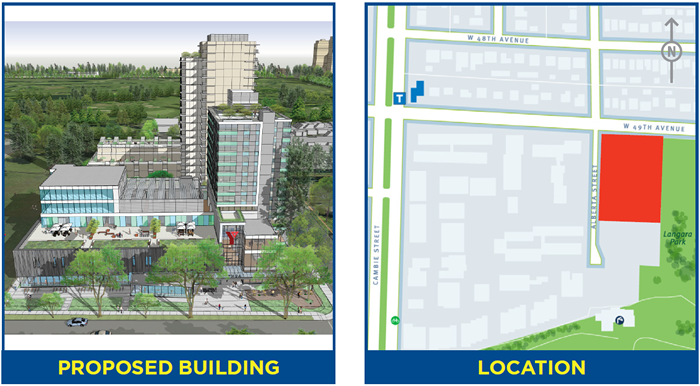 The City of Vancouver has received a rezoning application to amend CD-1 (103) (Comprehensive Development) District to allow for redevelopment of the existing YMCA facility site at 282 West 49th Avenue.
The proposal consists of:
a 5-storey YMCA replacement facility, including childcare, recreation (fitness, gym, and aquatic facilities), community spaces, and a cafe;
a 13-storey non-market residential building containing 70 units;
a 20-storey market residential building containing 158 strata units;
a total floor space ratio (FSR) of 3.53;
a total floor area of 28,570 sq. m (307,520 sq. ft.); and
underground parking with 339 vehicle parking spaces and 545 bicycle parking spaces.
This rezoning application is being considered under the Cambie Corridor Plan.
A community open house was held on April 17, 2019 from 5-8pm at the Langara Family YMCA, 282 West 49th Avenue, with City staff and the applicant team available to answer questions.
You can provide comments by filling out our online feedback form.
Application (December 20, 2018)
Notifications
Advisory Groups and Community Meetings
Community Open House: April 17, 2019
Urban Design Panel: May 1, 2019
Links
To view additional plans, please make an appointment with the rezoning planner.
City Contact: Mateja Seaton, Rezoning Planner, mateja.seaton@vancouver.ca, 604-829-4217
Applicant: The YMCA of Greater Vancouver Properties Foundation, 300-5055 Joyce Street
Applicant Contact: Alan Endall, Stantec Architecture, alan.endall@stantec.com, 604-696-8228
[top]