Rezoning Application - 1608-1616 West Georgia Street & 1667 Alberni Street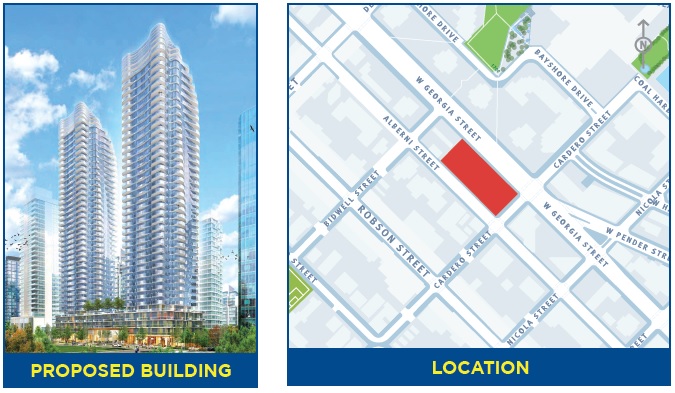 The City of Vancouver has received an application to rezone 1608-1616 West Georgia Street and 1667 Alberni Street from Multiple Dwelling (RM-6) District to Comprehensive Development (CD-1) to allow for the development of two 38-storey strata residential towers. The proposal includes:
Two towers with building heights of 117.3 m (385 ft.)
A four-storey podium connecting the two towers
A total of 455 proposed strata residential units, of which 200 are located in each of the towers and 55 located in the podium
A total floor area of 40,288 sq. m (433,657 sq. ft.)
A floor space ratio (FSR) of 9.60
Six levels of underground parking with 503 vehicle parking stalls and 911 Class A bicycle parking spaces
This application is being considered under the West End Community Plan and the Rezoning Policy for the West End.
A community open house was held on May 23, 2019 from 4:30 - 7:00 pm at the Coast Coal Harbour Vancouver Hotel, 1180 West Hastings Street. City staff and the applicant team were available to answer questions.
You can provide comments on this rezoning application by filling out our online comment form.
Application (March 14, 2019)
Notifications
Advisory Groups and Community Meetings
Community Open House - May 23, 2019
Urban Design Panel - June 12, 2019
Links
To view additional plans please make an appointment with the rezoning planner.
City contact: Leifka Vissers, Rezoning Planner, leifka.vissers@vancouver.ca, 604-829-9610
Applicant contact: Gwyn Vose, IBI Group, GVose@IBIGroup.com, 778-988-8008
View the location using VanMap ( What is VanMap? )
View the notification area and legal information
----------------
[top]