Rezoning Application - 1001 Kingsway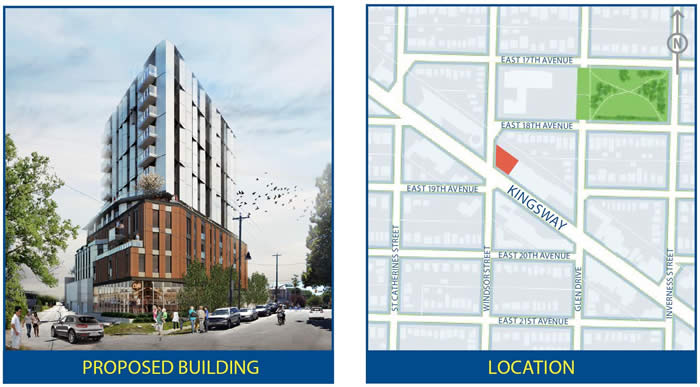 The City has received an application to rezone 1001 Kingsway from C-2 (Commercial District) to CD-1 (Comprehensive Development) to allow for the development of a 12-storey mixed-use building including:
a total of 88 social housing units;
commercial uses at grade;
a total floor space ratio (FSR) of 5.78;
a total floor area of 7,854 sq. m (84,539 sq. ft.);
a maximum height of 41.5 m (136.2 ft.); and
44 underground parking stalls and 170 bike spaces.
The application is being considered under the Kensington-Cedar Cottage Community Vision
A community open house was held on September 30, 2019, 4:30 pm - 7:30 pm at the Church of Nazarene (998 East 19th Avenue) with City staff and the applicant team available to answer questions.
You can provide comments by filling out our online feedback form.
Application (August 1, 2019)
Notifications
Advisory Groups and Community Meetings
Community Open House: September 30, 2019
Urban Design Panel (UDP): October 16, 2019
Links
For more information and to submit comments, please contact the rezoning planner.
City Contact: Sarah Crowley, Rezoning Planner, sarah.crowley@vancouver.ca, 604 873 7455
Applicant Contact: Nadia Hill, New Commons Development, nhill@newcommons.ca, 778-558-2271